Kim Junggi,
The Other Side
-
2021.04.16 Fri - 2021.07.11 Sun
hosted by

LOTTE Foundation for Arts

organized by

LOTTE Museum of Art

in collaboration with

LOTTE CHEMICAL, LOTTE Giants, INTERPARK

supported by

NAVER

sponsored by

LG Electronics, Angel-in-us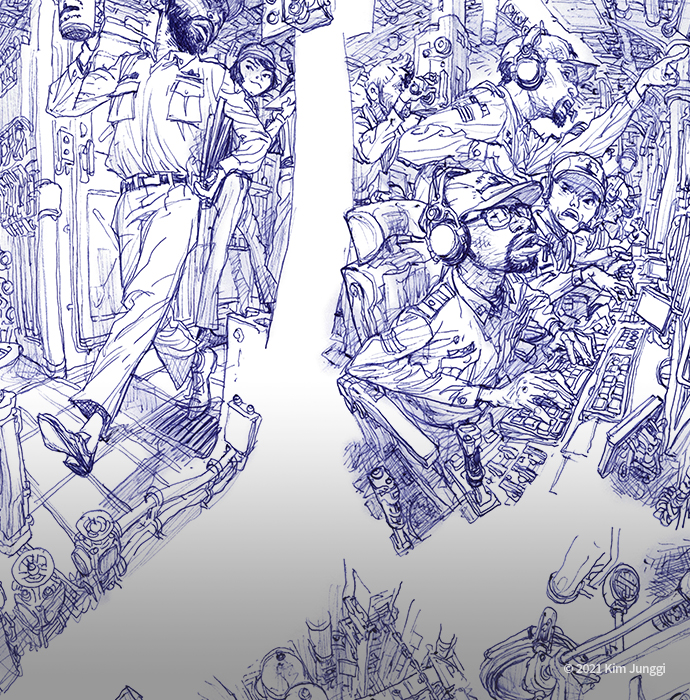 The LOTTE Museum of Art presents The Other Side, a solo exhibition of artist Kim Junggi, who has forged a distinct artistic realm by freely crossing the boundaries of art through his use of reality and fiction, his intuitive way of thinking, and immeasurable imagination. He brings to life a dimension that goes beyond reality by expanding the potential of "lines" and using precision techniques and narratives of his mind.
Kim is admired the world over for his astounding talents having created a new genre called Live Drawing that goes beyond the artistic concept of the original form, and crossing boundaries of contemporary artistic fields. The first of its kind in the world to present such a comprehensive collection of the artist, this exhibition of Kim will show, in a single venue, more than 2,000 pieces that include not only original cartoons and comics that were the source of inspiration for his imaginative endeavors along with 1,000 or more of his drawings, but also large-scale painting, video, and photography works that will allow audiences to take a look back at his artistic path.
The exhibition will serve as a road sign directing viewers to the flip side of Kim's imaginary world – The Other Side. On a canvas overlaid with various images of pop culture, numerous figures and forms from all different time and space follow a well-scripted anecdotal structure to complete a composite narrative. The few thousand sheets of drawings allude well to Kim's love for the act of drawing and his tenacious focus towards his subjects. Through a special live drawing performance given by the artist himself inside the exhibition hall, viewers will have a chance to witness his visual memory being transferred on to paper with precision through the tip of his pen.
The Other Side of Kim's imaginary world, one that combined instantaneous and spontaneous inspiration to open up new possibilities of visual art, will undoubtedly offer a spellbinding experience that will intensely captivate our gaze.
LOTTE Museum of Art
OPENING HOURS
10:30-19:00 (Last enter 18:30)
· Final admission : 30 minutes before closing time
CONTACT US
·
· Call centers are closed on weekends and public holidays.
· Inquiries are available 10:30 to 19:00 on weekdays. (Lunch 11:30 to 12:30)
·
TICKET PRICE
Kim Junggi, The Other Side
2021. 04. 16 Fri - 2021. 07.11 Sun
· Discounts may not be combined with any other discounts or promotions.
· 1 children under the age of 4 can be admitted free with an adult guardian, any additional children will be charged with a children's admission fee.