AUSTIN LEE :
PASSING TIME
2023.09.26 TUE - 2023.12.31 SUN
hosted by

LOTTE Foundation for Arts

organized by

LOTTE Museum of Art

supported by

MEDIAㅣ INTERPARK, NAVER, VIBE

sponsored by

LG Digital Signage, ThinkUS by LOTTECARD, LOTTE CHMICAL X Project Loop, GUIDE SAMJUNG, LG cinebim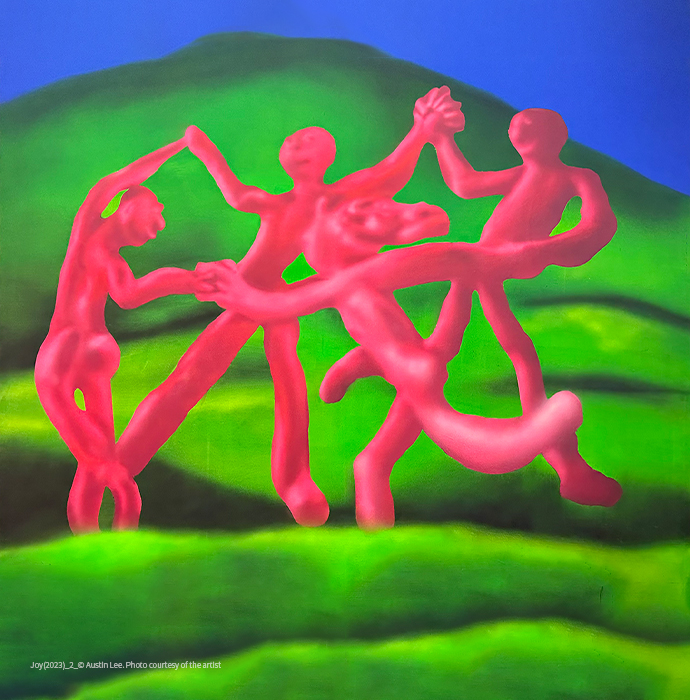 The LOTTE Museum of Art presents the works of Austin Lee, an artist who freely traverses the boundaries of art to recreate a unique artistic universe utilizing various mediums and techniques. Currently garnering the art world's attention, he is considered to have created a new art genre by combining classical painting with digital technology. Lee's first-ever show in Seoul will feature over fifty painting, sculpture, and video works fused with digital technology that bring to life his imagination.
This exhibition takes us through the emotional changes the artist goes through in his time of perpetual anguish and contemplation as an artist. Lee constantly hones in on the subtle emotional changes in the human mind and unites his ideas with various mediums to create fairytale-like pure and mystical displays. The show takes the gallery as one gigantic clock, offering the audience a unique experience of finding themselves riding the waves of time.
In Austin Lee, Passing Time, we travel through time created via Lee's distinct artistic world of complex and exquisite emotions. The journey brings us face-to-face with the moments and feelings we often let pass that are, at times, incredibly passionate and, at others, unbelievably mundane. Through this, we will finally find the signs in our hearts that lead us to warm and precious moments and gift us with an exceptional experience.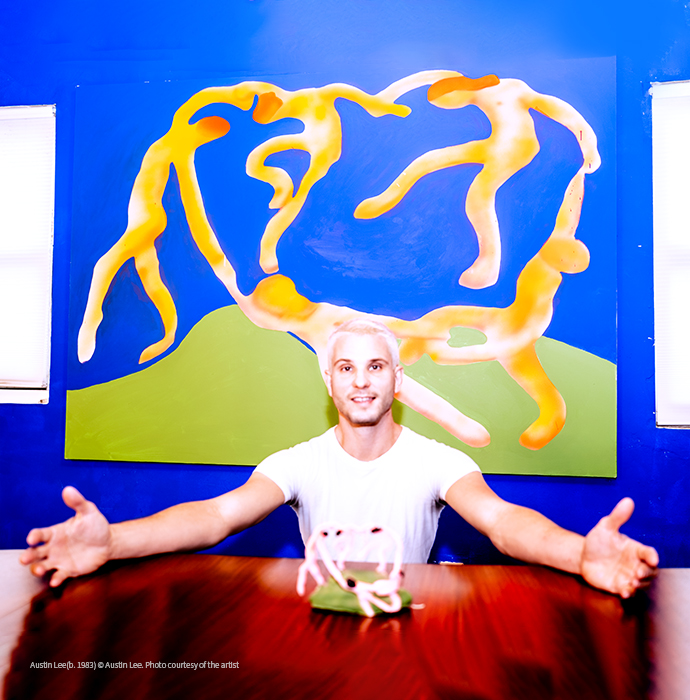 오스틴 리
AUSTIN LEE (b.1983)
"I love making new images that I haven't seen before. It is similar to when I hear a new song for the first time. I'm always looking for that exciting and unknown feeling." - Austin Lee
Austin Lee (b. 1983) is a Las Vegas-born artist based in New York who creates a myriad of works by combining innovative technologies such as virtual reality (VR) and augmented reality (AR) with traditional painting.
Lee majored in painting at the Tyler School of Art in Philadelphia, where he studied under major American artists such as Stanley Whitney (b. 1946) and Dona Nelson (b. 1947) before moving to New York to acquire a B.A. at the Yale School of Art in 2013. After his first solo exhibition in 2014 at the Postmasters Gallery, Lee participated in Juxtapoz x Superflat in 2016 curated by world-renowned artist Murakami Takashi (b. 1962), followed by a show at Kaikai Kiki Gallery in 2017, his first solo exhibition in Japan.
His works have been featured in institutions all around the world including New York, USA, Istanbul, Turkey, Berlin, Germany, and Milan, Italy. He will follow his 2022 show at M Woods Museum, Beijing, with his first solo exhibition in Seoul at the LOTTE Museum of Art in 2023.
OPENING HOURS
• Closed on September 28th , September 29th , October 16th, November 6th.
• Lotte Department Store Avenue is closed on the same days as the holidays above, but the schedule is subject to change.
CONTACT US
• Lunch time is from 11:30 to 12:30.
• Closed on national holidays and weekends.
TICKET PRICE
AUSTIN LEE : PASSING TIME
2023.09.26 TUE - 2023.12.31 SUN
• Reservation Period : July 26th, 2023 – September 25th, 2023
• Admission Period : September 26th, 2023 – December 31st, 2023
• Cancelation Period : July 26th, 2023 – December 30th, 2023 (23:59)