KENNY SCHARF
SUPER POP UNIVERSE
2018. 10. 3 WED 2019. 3. 3 SUN
hosted by

LOTTE Foundation for Arts

in collaboration with

Kenny Scharf Studio

sponsored by

Lotte Advanced Materials, Lotte Chemical, Lotte Fine Chemical, Lotte BP Chemical, Lotte MCC

supported by

NAVER, US Embassy in Korea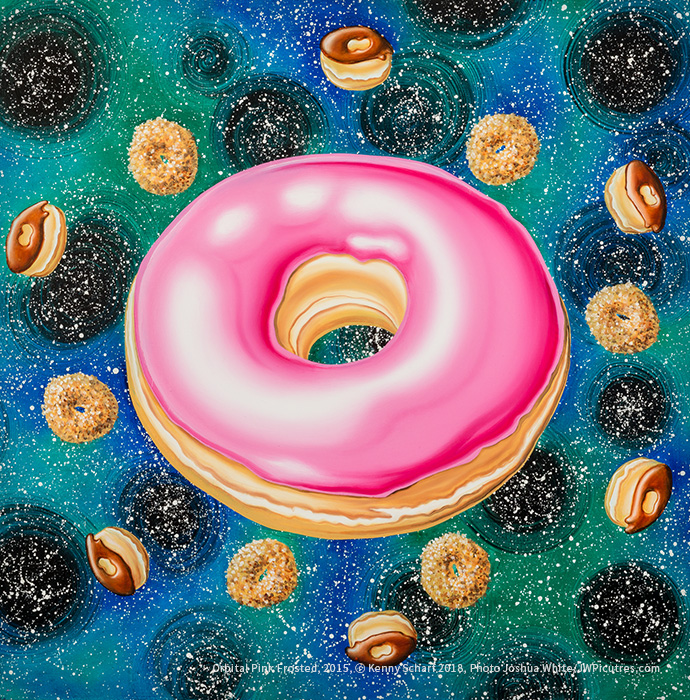 LOTTE Museum of Art presents an exhibition of Kenny Scharf, a living legend of Pop Art whose ingenious works incorporate social messages through animated characters in science fiction settings, as inspired by the fast-growing pop culture of 1970s New York. It is the first-ever grand-scale exhibition to feature over 100 works by Kenny Scharf, including his paintings, sculptures, drawings and videos. Scharf, along with other artists such as Keith Haring and Jean-Michel Basquiat, helped cement the Golden Age of 1970s Pop Art Movement, a concept introduced by Andy Warhol a decade earlier. The current exhibition is an opportunity to experience anew the beginning of a new artistic era from 1970s in which the art stepped down from its elitism and started mingling with ordinary life.
After moving to New York from L.A. in 1978, Scharf attended the School of Visual Arts where he met his roommate Haring and Basquiat. The trio would hang out together in the streets of East Village, painting graffiti on the streets, meeting Andy Warhol and venturing into experimental performance art at Club 57. Soon thereafter, these young artists made a grand debut into the New York art scene and became a new focus of attention from the international art community.
Specially featured in this exhibition are The Jetstons series, Cosmic Cavern, and other major works by Scharf that reflect his perspective on the world. Scharf's artistic vision was heavily influenced by animated cartoons he watched as a young boy on color television (a new invention at the time). One such cartoon, the Flintstones, is a story involving a family in the stone age, while the aforementioned the Jetsons is set in the futuristic space age. Using these shows as a medium, Scharf combines the two cartoons to create a new story titled the Jetstones. The widespread fear of war, drugs, and AIDS that plagued society since the late 1970s is manifested through the themes of nuclear holocaust and environmental problems in Scharf's works. Underlying the Jetstones is a social anxiety pertaining to these issues and a desire to escape from the post-apocalyptic earth to the outer space. The animated characters in the story are juxtaposed with fin-de-siècle social problems, creating a new metaphor. His apocalyptic perspective can also be found in Cosmic Cavern: the colorful, fluorescent environment built with abandoned toys and electronics symbolizes an escape from the fear of reality into a safer space. Furthermore, it underscores a metamorphosis of life's bleakness into a world distinctly Scharf's own, its vibrant colors and moving forms percolating with humor and positive energy.
Kenny Scharf turns the mundanity of everyday life into a marvelous playground. He can breathe new life into detritus just as effortlessly as he can create a new artwork out of random cars on the street by merely painting on them. An ordinary donut becomes a spaceship heading for utopia. The anxieties over war and the environment are amplified through caricature and humor. Interconnected in his work are visions of the past, the present and the future, inducing us to confront the social issues of the present. This exhibition will re-examine Scharf's unique worldview in the larger context of visual culture and Pop Art, and provide viewers with a magical experience in which art transforms life, and reality melds into fantasy.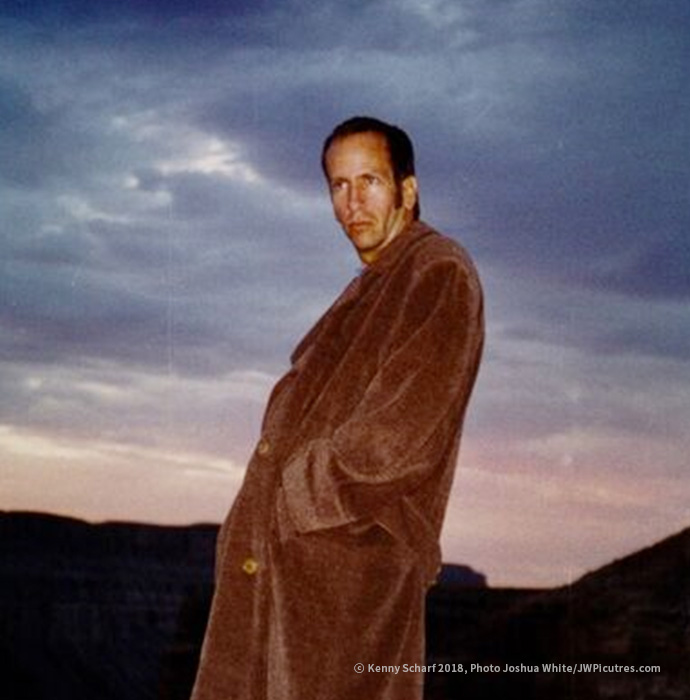 "We all had very different styles, Keith and Jean-Michel and me, but very similar philosophies. We used each other to make each other excited, even if it was tinged with jealousy. It lit a fire in you. And the same thing happened when they were gone." - Kenny Scharf
Born in Los Angeles, California, Kenny Scharf is considered a pioneer of street art and a living legend in the post-Andy Warhol Pop Art world alongside Keith Haring and Jean-Michel Basquiat. After moving to New York in 1978, Scharf studied at the School of Visual Arts, where he befriended and gained artistic inspiration from Jean-Michel Basquiat and Keith Haring. The trio freely experimented with new modes of art and was active in New York's East Village art scene.
After meeting his artistic role model Andy Warhol, Scharf quickly rose to prominence in the New York art scene, as he continued with his performances and experimental exhibitions in underground venues such as Club 57. Starting with the first exhibition in 1979 at Fiorucci, a department store in New York City, Scharf's works were publicized at events such as the Times Square Show in 1980, a mass group exhibition of works by different artists then considered part of a subculture, and the New York/New Wave exhibition at P.S.1. Later, his solo exhibitions held at the Fun Gallery and Tony Shafrazi Gallery drew worldwide attention. In 1982, Scharf exhibited his works with Keith Haring at Kestner-Gesellschaft in Hanover, Germany. A year later, he participated with Basquiat and Haring in Back to the U.S.A. exhibition at Kunstmuseum Luzern in Switzerland. Soon afterwards, Scharf rose to international fame when he presented his surreal installation Cosmic Cavern at the Whitney Museum of American Art and the Whitney Biennial. However, Andy Warhol's death in 1987, followed by those of Basquiat and Haring in 1988 and 1990, left Scharf consumed in grief. Nonetheless, Scharf continued to create unique works of art while participating at various exhibitions at museums and galleries worldwide.
The Space Race during the Cold War era led Scharf's artworks down a path of the surreal and the cosmic. His works are further influenced by themes of societal anxiety over nuclear holocaust, environmental problems, AIDS, and drugs (which took his friends' lives). One such work, featuring unique alien characters, is inspired by two of America's famous animated cartoons - the Flintstones and the Jetsons.
Together with vibrant colors and the artist's ingenious humor, the melting form of an organism generates the dynamic energy which represents the troubles of our reality from a different perspective. Scharf laid the foundations of street art with his graffiti works on the streets of New York City and other major cities around the world, and remains a prolific artist across diverse art forms including painting, sculpture, performance art and graffiti.
LOTTE Museum of Art will be the first institution in the world to present a grand-scale exhibition that encompasses Kenny Scharf's oeuvre. His works can be found in various world-renowned art institutions including the Guggenheim Museum, the Museum of Modern Art, the Whitney Museum of American Art in New York, Los Angeles County Museum of Art, and the Museum of Contemporary Art in L.A.
;
OPENING HOURS
· Admission is allowed up to 30 minutes before closing time.
· Closing days are on the first Monday of each month, but are subject to change.
CONTACT US
· Call centers are closed on weekends and public holidays.
· Inquiries may be made from 10:30 – 19:00 on weekdays.
· Lunch time for the call center is from 11:30 ~ 12:30.
TICKET PRICE
Kenny Scharf, SUPER POP UNIVERSE
2018. 10. 3 WED - 2019. 3. 3 SUN
· Discounts may not be combined with any other discounts or promotions.
· Children under the age of 4 can be admitted free with an adult guardian,
  any additional children willbe charged with a children's admission fee.