JAMES JEAN
ETERNAL JOURNEY
2019. 4. 4 THU 2019. 9. 1 SUN
hosted by

LOTTE Foundation for Arts

in collaboration with

James Jean Studio

sponsored by

NAVER, US Embassy in Korea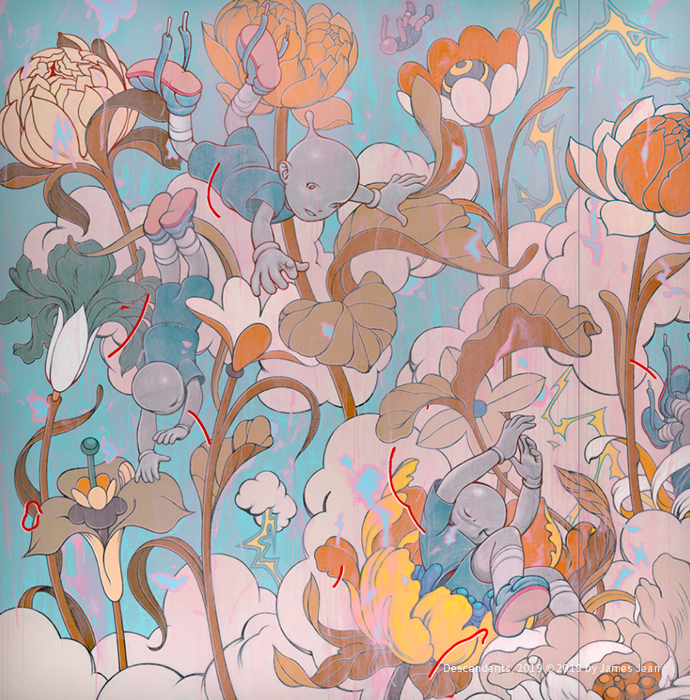 LOTTE Museum of Art has been facilitating cultural conversations by introducing the global currents of contemporary visual arts to the public. Over the past seasons, we have presented large-scale premieres in Asia of works by several masters of our time, namely Dan Flavin, Alex Katz and Kenny Scharf, whose innovations represent an inflection point in the history of contemporary art. In this new season, LOTTE Museum is excited to introduce James Jean, whose works creatively recount various aspects of reality in fantastic and mythical contexts, with an imaginative rendition of tradition and culture, time and space, and sociopolitical issues.
As a fresh university graduate, James Jean began his professional career in his early 20s by creating cover art for DC Comics. Starting in 2008, Jean produced large-scale paintings in which he dismantled the so-called distinctions between commercial art and fine art through the concoction of epic, enigmatic imagery complemented by solid narrative and technical mastery. The current exhibition exclusively showcases nine large-scale works on the motif of the five fundamental colors and media forming the core of pan-Asian visual culture. It also chronicles James Jean's artistic journey by presenting a collection of over 500 of his works, including roughly 150 comic book covers and 200 drawings that were the main sources of inspiration for his other works, as well as large-scale paintings, sculptures, and video art.
As an Asian-American, Jean has consistently explored the dual nature of his identity through his works, a quest consummated in the visual narrative of the eternal wanderer fluctuating between the agony and ecstasy of flirting with, yet never fully belonging to, his past or his present as experienced through the lens of Eastern and Western culture. We hope that this exhibition will provide viewers with a unique opportunity to experience the transformative power of James Jean's marvelous canvas that combines the intimacy of the innermost self with the palpable challenges of the world around us.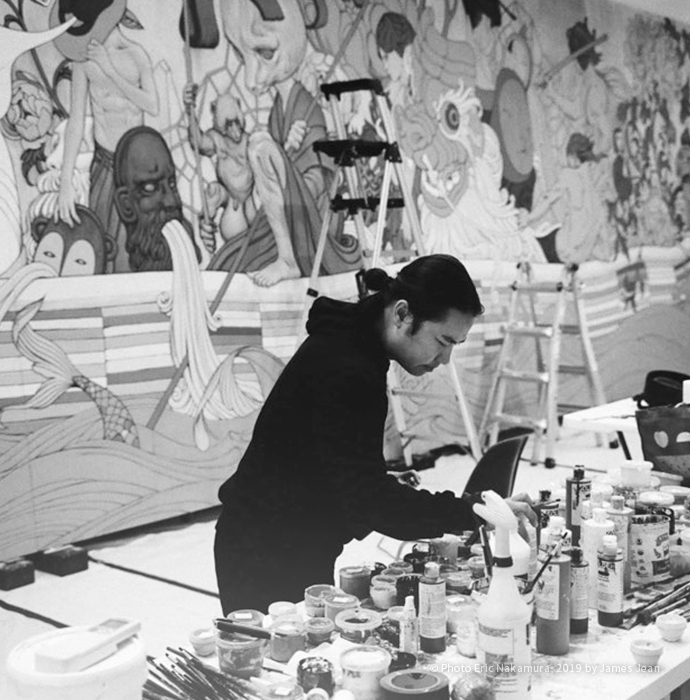 James Jean, currently based in Los Angeles, is a Taiwanese-born American artist working tirelessly across various artistic media. Born in Taipei in 1979, Jean moved with his family to the United States at the age of three and spent his formative years in New Jersey. After receiving his education at the School of Visual Arts (SVA), a premier art college in New York City, Jean kick-started his artistic career in 2001 by creating cover art for 『Fables』, a comic book series published by the industry giant DC Comics. Jean's covers were praised for their remarkably original, imaginative qualities, which in turn won him a throng of prestigious awards and international recognition for his outstanding talent. Most notably, he is the recipient of four times Harvey Awards for Best Cover Artist, as well as of six times Eisner Awards, often referred to as the Oscars of the comics industry. Jean further established himself as an artist of international fame and demand by taking on multiple commercial projects in collaboration with global media and retail conglomerates, including 『Time Magazine』, 『New York Times』, ESPN, 『Rolling Stone』, and Nike.
2007 spelled another breakthrough for Jean as his first grand collaboration with Prada was met with wild critical acclaim. For this project, he created a series of original sketches whose phantasmic allure extends to the identity of the luxury brand, thus elevating the season's entire collection into a holistic work of art. In addition, the artist created the 60-meter-long, giant mural inside Prada Epicenter New York, and produced a series of animation shorts under the title <Prada: Trembled Blossoms>. Jean thus continued his creative journey across the boundaries of commercial and fine art. His partnership with Prada, which lasted through four seasons over the period of a decade, garnered him wide popularity in the fashion world and amongst the general public alike. Meanwhile, starting around 2008, Jean began to work in earnest on his large-scale paintings. Especially noticeable in this line of work is his intermingling of fantasy and reality that crisscross the canvas, reflecting both the themes compacted in his previous comic book covers and the graphic narratives in his drawings.
Jean continued his rapid rise as a gifted up-and-coming artist with his solo debut exhibit titled 《Kindling (2009)》, followed by another solo exhibit titled《Rebus (2011)》, both of which chronicled the artist's attempt to take his own surrealistic sensibilities to the limit. Jean steadily expanded his domain in the art world as his works were presented in various exhibitions at prominent art institutions in the United States and worldwide, such as the Museum of Modern Art in New York, Los Angeles County Museum of Art, Oakland Museum of California, and Yokohama Museum of Art in Japan.
In 2017, James Jean created the posters for three separate films – <mother!>, <The Shape of Water>, and <Blade Runner 2049>. In particular, Jean's work for the former two, for which the artist was commissioned respectively by the internationally renowned film directors Darren Aronofsky and Guillermo del Toro, gained widespread recognition in concert with the films' critical and popular success. Likewise, his contribution to the art poster for <Blade Runner 2049> drew the attention of the art world as well as the interest of the general public. Continuing in his arc of success, Jean in 2018 held his solo exhibition 《Azimuth》 in Tokyo to an enthusiastic reception, helping once again cement his reputation as one of the most sought-after names amongst contemporary artists.
This year, LOTTE Museum of Art is proud to present James Jean's first-ever, grand-scale retrospective exhibition, in what promises to be the best singular opportunity to reflect upon his unique perspectives and aesthetic sensibilities encompassing two decades of his work.
;
OPENING HOURS
· Final admission : 30minutes before closing time
· Museum Closed on the first Monday of every month. However, it is subject to change. 
CONTACT US
· Call centers are closed on weekends and public holidays.
· Inquiries are available 10:30 to 19:00 on weekdays. (Lunch 11:30 to 12:30)
· Lunch time for the call center is from 11:30 ~ 12:30.
TICKET PRICE
James Jean, ETERNAL JOURNEY
2019. 4. 4 WED - 2019. 9. 1 SUN
· Discounts may not be combined with any other discounts or promotions.
· 1 children under the age of 4 can be admitted free with an adult guardian, any additional children willbe charged with a children's admission fee.