To the Moon
with Snoopy
2019. 10. 17 THU - 2020. 3. 1 SUN / 2020. 5. 8 FRI - 6. 21 SUN
hosted by

LOTTE Foundation for Arts

in collaboration with

Charles M. Schulz Museum, Peanuts Worldwide LLC

sponsored by

World Vision, Naver

supported by

LOTTE World Tower, LOTTE Advanced Materials, LOTTE Duty Free, LOTTE Chilsung Beverage, Angel-in-us, LOTTE Department Store, Canon Korea Business Solutions

organized by

LOTTE Museum of Art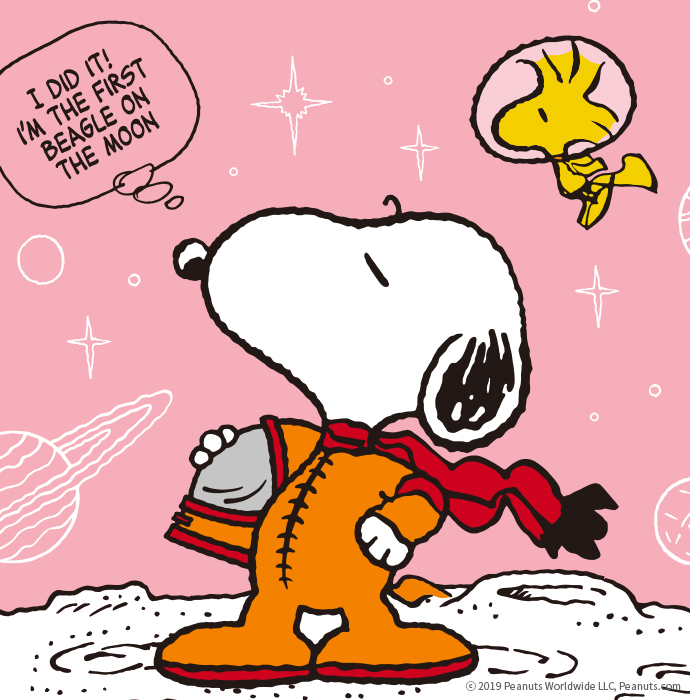 "That's one small step for a man, one giant leap for mankind."
- Neil Armstrong
LOTTE Museum of Art boldly brings to you a special exhibit, presenting a wealth of space-themed artworks centered around Snoopy from Peanuts – the very beagle who accompanied the astronauts on NASA's Apollo X mission approximately half a century ago. Peanuts, which turns 70 this year, has long been hailed as a contemporary classic due in part to its distinct outlook on the world. Best known for the iconic beagle Snoopy, the legendary comic franchise was originally created by American cartoonist Charles M. Schulz as a series of four-panel comic strips, featuring Charlie Brown and Snoopy as the two mainstays along with a gang of young friends. Peanuts ran for 50 years from 1950 to 2000, and was enlisted in the Guinness Book of World Records as the most published comic strip in the world.
At the peak of the serial's popularity, Charlie Brown and Snoopy respectively became the call signs for the command and the lunar modules of Apollo X in 1969, whose success paved the way for the historic moon landing by Apollo XI later that year. This exhibit will seek to explore humanity's fascination with space through thought-provoking works by various artists who came together to reinterpret the timelessness of Snoopy's character, whose charming brevity is nonetheless borne of complex philosophical and sociological musings on the basics of life.
The artworks in this exhibit are built around two primary sources of inspiration: the moon landing of 1969 and the characters from Peanuts. We begin by presenting a special exhibit from Charles M. Schulz Museum titled To the Moon: Snoopy Soars with NASA, which chronicles the history of moon landing with Snoopy; also accompanying the exhibit are paintings by Kenny Scharf and André Saraiva featuring Peanuts characters. Next, we are thrilled to showcase over 100 pieces of never-before-seen works produced by 19 of the most prominent Korean artists of our time, featuring riveting variations on Peanuts characters as reimagined across diverse genres and media, from painting and sculpture to installation art, media art and street art. These works demonstrate the dynamic energy of Korean contemporary art and its constant endeavor to expand its boundaries through an open conversation with pop culture. Last but certainly not least, we present works by leading fashion designers both from Korea and abroad, providing viewers with a unique opportunity to see Snoopy and Charlie Brown figures in custom outfits that will transcend the traditional barrier between fashion and art.
As if to stay true to Schultz's famous proposition that "Happiness is a warm puppy", the world of Peanuts fundamentally holds fast to the spirit of quiet – yet inexorable – optimism. Perhaps it is precisely this manner of optimism that makes the inconceivable achievable; after all, when the names Charlie Brown and Snoopy became forever etched in the trajectory of the space mission, it was two animated characters who unexpectedly helped us affirm our own humanity and capacity for greatness. We at LOTTE Museum of Art hope you will join us in an exploration of the universal appeal and staying power of Peanuts, burnished by the creative power of contemporary art and fashion, that will fill your heart with warm, joyful reminiscence.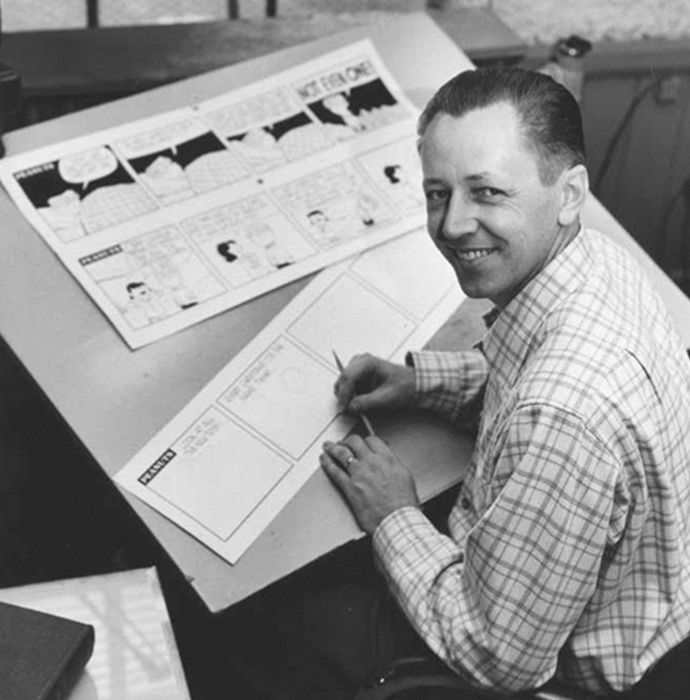 Charles Monroe Schulz
1922-2000
Born in Minneapolis, Minnesota, American cartoonist Charles Monroe Schulz dreamed of becoming a cartoonist since childhood. He took a number of cartooning classes in high school. Later in 1945, after returning from his military service abroad during WWII, he did lettering work for the catholic comic magazine Timeless Topix. Soon afterwards, Schulz started teaching at his alma mater Art Instruction Schools, where he met the people who would become the inspiration for some of the essential characters in Peanuts – e.g. Charlie Brown, Linus Maurer, and the Little Red-Haired Girl.
In 1947, Schulz kick-started his career as a cartoonist for the local newspaper St. Paul Pioneer Press, which published his weekly series of single panel cartoons titled Li'l Folks. The serial contains prototypes of key characters in Peanuts, notably those of Charlie Brown and Shermy Plepler. In 1950, Schulz submitted his one-panel comic samples to United Feature Syndicate in New York, which immediately took an interest in his work. On October 2, 1950, the company launched in seven national newspapers a four-panel comic strip series titled Peanuts, whose eventual success earned Schulz a nationwide recognition. For the next 50 years, Peanuts made daily appearances in numerous newspapers. As the world's most beloved comic strip boasting nearly 360 million fans, it has been published in more than 2,600 newspapers in over 40 languages across 75 countries.
Peanuts illustrates episodes from the daily lives of a group of young friends with distinct personalities – Charlie Brown, Lucy van Pelt et al., along with Charlie's dog Snoopy. Through these characters' charming and unsullied perspectives, the comic strips recount the tragicomic aspects of our own lives flush with irony and humor. Charlie Brown, an archetypal average boy in a small town, constantly deals with failure without ever succumbing to despair. Charlie's pet beagle Snoopy, on the other hand, deftly resolves every problem, often by transforming himself into a character that suits every purpose (a caring physician, an eloquent lawyer, and an ace pilot, to name a few). The dog's multifaceted, extraordinary talents strongly resonate with our own desire to escape the often stifling issues we face in reality. Also, the strong bond shared amongst the Peanuts gang despite all their individual peculiarities accounts for the warm sentiments these characters elicit from readers to this day.
Peanuts has become a global icon in popular culture, having been reproduced in various media formats including animated TV series, feature films and games. Its beloved characters have graced the covers of some of the world's most influential magazines such as Time and Life. After its publication on the 2,000th newspaper, the comic strip made its way into the Guinness Book of World Records(1989) as the most published cartoon strip. The wide appeal of the Peanuts franchise extends beyond media and entertainment. In 1968, NASA selected Snoopy the Astronaut as its friendly Mascot for Safety, an honorable duty which the World's Most Famous Beagle has been faithfully fulfilling for over 50 years since. What's more, the organization went on to name the command and lunar modules of its 1969 Apollo 10 space mission after Charlie Brown and Snoopy, respectively, making them the first cartoon characters ever to have gone on a space trip.
;
OPENING HOURS
· Final admission : 30minutes before closing time
· Museum closes one day a month. 
CONTACT US
· Call centers are closed on weekends and public holidays.
· Inquiries are available 10:30 to 19:00 on weekdays. (Lunch 11:30 to 12:30)
·
TICKET PRICE
To The Moon with Snoopy
2019. 10. 17 THU - 2020. 3. 1 SUN / 2020. 5. 8 FRI - 6. 21 SUN
· Discounts may not be combined with any other discounts or promotions.
· 1 children under the age of 4 can be admitted free with an adult guardian, any additional children will be charged with a children's admission fee.