Dan Flavin, Light:
1963-1974
2018.01.26.FRI 04.08.SUN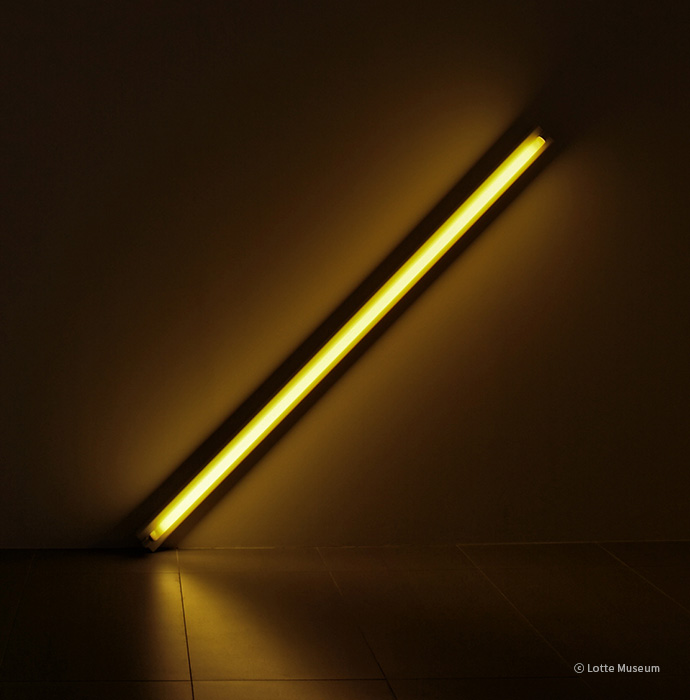 Few artists have been more readily identified with a particular medium than Dan Flavin (b. 1933, New York City; d. 1993, Riverhead, New York). From 1963 through the remainder of his career, Flavin's work was composed almost entirely of light in the form of commercially available fluorescent tubes in ten colors (blue, green, pink, red, ultraviolet, yellow, and four shades of white) and five shapes (one circular and four straight fixtures of varying lengths).
As a pioneering Minimalist, Flavin aimed to expand his practice beyond the confines of painting and sculpture along with peers like Carl Andre and Donald Judd. Shifting away from the overly gestural canvases of the Abstract Expressionists, they embraced a simplified vocabulary that emphasized seriality and reduced formal devices. Light, with its few limitations and transformative abilities, represented for Flavin an antidote to gestural painting. In his 1965 essay " . . . in daylight or cool white," Flavin summed up his practice as "decisions to combine traditions of painting and sculpture in architecture with acts of electric light defining space." The result is a phenomenological experience where the work of art must be experienced in person by a viewer.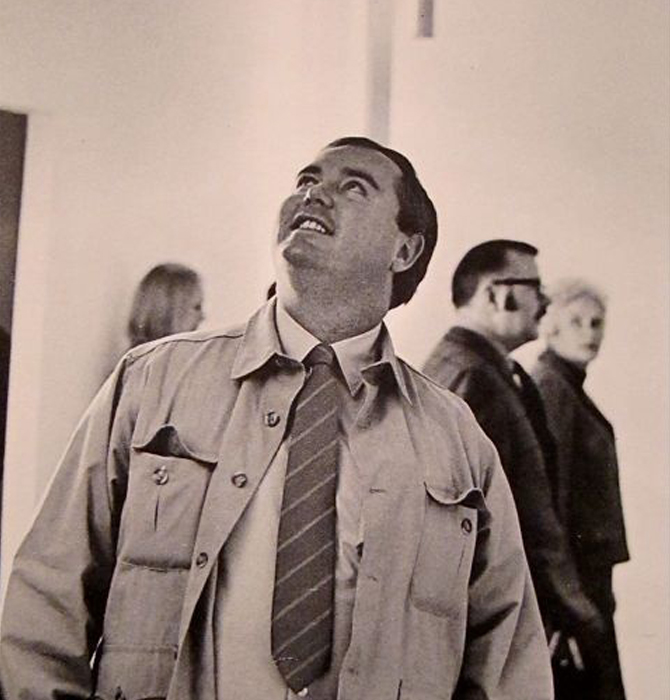 Dan Flavin was born in 1933 in New York City. Flavin enlisted in the United States Air Force in 1953 and was stationed a year later at the Fifth Air Force Headquarters in Osan, Republic of Korea, where he served as a meteorological aide. He returned to New York in 1956, where he studied art history at the New School for Social Research and Columbia University. In 1961 he had his first solo exhibition at the Judson Gallery, New York. Later that year he began experimenting with electric light in a series of works called "icons," which led him to his first work made solely of fluorescent light, the diagonal of May 25, 1963 (to Constantin Brancusi) (1963). Major exhibitions of Flavin's work include those at the Museum of Contemporary Art, Chicago (1967), the National Gallery of Canada, Ottawa (1969), and the Staatliche Kunsthalle, Baden-Baden (1989). In 2004 Dia organized a traveling retrospective in association with the National Gallery of Art, Washington, DC. In 1983 Dia opened the Dan Flavin Art Institute, a permanent exhibition designed by the artist in a former firehouse and Baptist church in Bridgehampton, New York. Flavin died in 1996 in Riverhead, New York.
;
OPENING HOURS
· Admission is allowed up to 30 minutes before closing time.
· Closing days are on the first Monday of each month,
  but are subject to change.
CONTACT US
· Call centers are closed on weekends and public holidays.
· Inquiries may be made from 10:30 – 19:00 on weekdays.
· Lunch time for the call center is from 11:30 – 12:30
TICKET PRICE
Dan Flavin, Light : 1963-1974
2018.01.26.FRI - 04.08.SUN
LOTTE Card ㅣEarly Bird 1+1
· Early Bird Tickets are only available for reservation from Dec. 15, 2017 (Fri) – Jan. 25, 2018 (Thu).
· Early Bird Tickets are only usable until Feb. 25, 2018 (Sun), after which they are no longer valid or cancellable.
· Early Bird Tickets are eligible for "Buy One Get One Free" promotion when purchased with a LOTTE card.

· Discounts may not be combined with any other discounts or promotions.
· Children under the age of 4 can be admitted free with an adult guardian,
  any additional children will be charged with a children's admission fee.