JEAN-MICHEL BASQUIAT
Royalty, Heroism, and the Streets
2020. 10. 08 Thu 2021.02. 07 Sun
hosted by

LOTTE Foundation for Arts, Gaudium Associates

sponsored by

Naver audio clip

supported by

SHINYOUNG Securities, LOTTE Confectionery, Angel-in-us, Asiana Airlines, KB Insurance, LG Electronics

organized by

LOTTE Museum of Art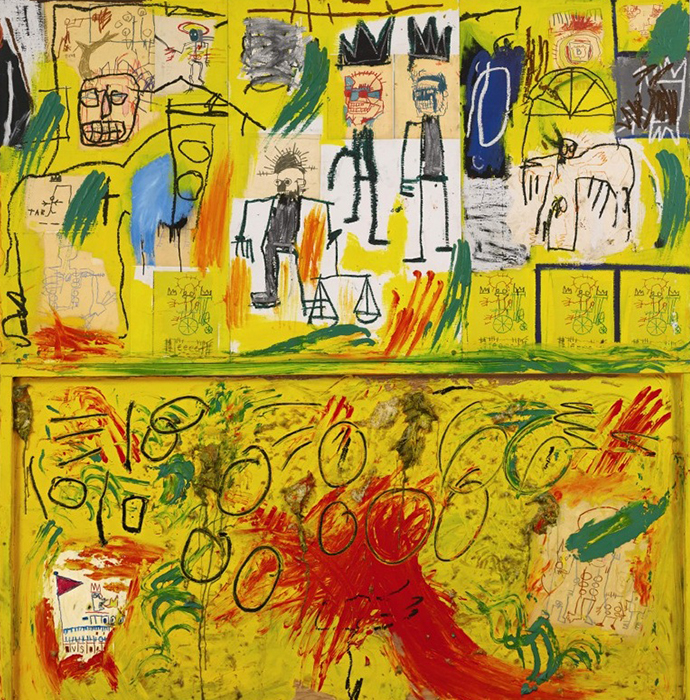 The LOTTE Museum of Art will hold a large-scape exhibition featuring "genius artist" Jean-Michel Basquiat, who displayed a passionate world of art while resisting social bias. Basquiat, who made a meteoric rise on the New York art scene in the early 1980s and left some 3,000 artworks, opened a new horizon for contemporary visual culture through his new art charged with the energy of freedom and resistance. More than 150 masterpieces by this artist, whose name has become a byword for youth, and who is loved by people around the world as a source of new inspiration, will be shown on an unprecedented scale at this exhibition.
Based on three keywords—royalty, heroism, and the streets—the Museum will comprehensively present the innovative world of art achieved by Basquiat. Paintings, sculptures, drawings and ceramic works representing his oeuvre as a whole will fill the entire exhibition space, from the SAMO period that began in the streets of New York, to the mass culture and new methods of industrialization appearing in his art, and the diverse icons he created based on the hero motif. Even more significant is that five large-scale works made in collaboration with Andy Warhol will also be presented in the show.
Basquiat, first known on the New York art scene as the rebel from the streets, rapidly joined the ranks of star artists. Life and death, violence and fear, light and darkness coexist in his works, which explicitly uncover the depths of humans' inner being, while bringing viewers face-to-face with primordial human nature. This exhibition will be a prime opportunity for spectators to directly experience the world of art by Basquiat, whose life ended at the young age of 27, but who has continuously been reinterpreted in diverse realms including art, music and fashion, and is still with us today as a living legend and hero.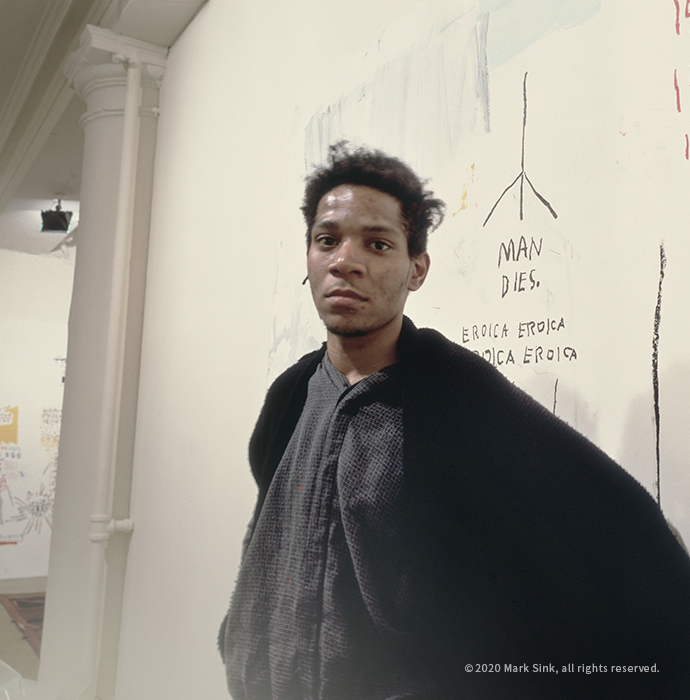 JEAN-MICHEL BASQUIAT
1960-1988
Jean-Michel Basquiat was born 1960 in Brooklyn, New York, to a Haitian father and a Puerto Rican-American mother. Raised by a father whose mother tongue was French, and a Spanish-speaking mother, Basquiat was fluent in English, French and Spanish, forming the foundation for his expression of diverse languages in his works. During his childhood, his mother took him to the major art museums in New York, allowing him to accumulate vast knowledge of art history through numerous masterpieces, everything from Da Vinci to Picasso. In 1968, Basquiat suffered a traffic accident, and was hospitalized with a broken arm and severe internal injuries. During his long stay in the hospital, following a major operation to remove his spleen, his mother gave him <i>Gray's Anatomy</i>—a human anatomy textbook—as a gift. Through it, Basquiat learned for the first time about the structure of the human body and its anatomy. Even after becoming an artist, he constantly studied Da Vinci's anatomy drawings, which appeared as an important element in his work in combination with his inner contemplations on life and death.
In 1977 Basquiat and his friend Al Diaz formed the graffiti duo SAMO, which meant "SAMe Old Shit," and began spray-painting his images along the streets. SAMO, which was critical of mammonism and authoritarian society, was a fresh shock to the art world at the time, and galleries of the largely white-populated SOHO began taking note of his spectacular actions. Though Basquiat parted with Al Diaz at the end of 1978 due to differences of opinion concerning their work, the letters SAMO appearing in Basquiat's works came to be established as a symbol representing his identity.
Basquiat left home and was making a living by selling postcards and T-shirts he had painted while living in the streets, when he became acquainted with film producer, musician and curator Diego Cortez while hanging out at Club 57 and Mud Club, which were gathering places for artists at the time. At once recognizing Basquiat's talent, Cortez began providing him with full support, including by purchasing large quantities of his works. Cortez also introduced Basquiat as a participant in the large-scape group exhibition <i>The Times Square Show</i>, which also featured Jenny Holzer, Kenny Sharf and Kiki Smith, and <i>New York/New Wave</i> at PS1 in 1981. These were opportunities for the artist to present his works to the American art scene in a meaningful way. In <i>New York/New Wave</i>, in which 119 artists presented more than 1,600 artworks, Basquiat showed 15 works with a mixture of car, aircraft, schematic skeleton, anatomical human body figures and unidentifiable text, which also evoked the sense of children's drawings. During the same year, Basquiat met Swiss gallerist Bruno Bischofberger, and held a solo show in Italy. Afterwards, Basquiat obtained a studio with the support of Annina Nosei, and held his first solo show in the United States at her gallery in 1982, thus enabling him to transform from underground graffiti artist to rising star on the American fine art scene. At a solo exhibition held in Los Angeles during the same year, on invitation by Larry Gagosian, Basquiat sold all his exhibited works within a day. Meanwhile, he continued gaining international fame following his participation in <i>Kassel Documenta 7</i>—one of the most authoritative expositions in Europe.
With the introduction of Bruno Bischofberger, Basquiat was finally able to meet Andy Warhol—an encounter he had very much hoped for. According to Bischofberger's suggestion, Warhol produced a portrait of Basquiat, while Basquiat also made paintings of Warhol and himself. From then on, Warhol, who sensed that Basquiat would follow in his footsteps to become the new star in the art world, worked actively together with him. Basquiat participated in the Whitney Biennale in 1983, and in the same year held an exhibition in collaboration with Francesco Clemente and Warhol, according to Bischofberger's proposal. But in the wake of harsh criticism from the art sphere regarding this exhibition and another show held together with Warhol in 1985, the collaboration between the two artists came to an end. Basquiat, who had continuously painted black heroes, went beyond simple personal interest and held an exhibition in the République of Côte d'Ivoire in 1986, as a deep introspection of his own identity.
Basquiat was deeply shaken when Andy Warhol, a kind of father figure for him, died of post-surgery complications in 1987. Letting go of his will for life, he decided to cut off all connections with his associates and move to Côte d'Ivoire in Africa. However, on August 12, six days before his scheduled migration to Abidjan, Côte d'Ivoire, he died from a drug overdose. Jean-Michel Basquiat, who went from "rebel of the street" to "rising star of the world art sphere" overnight, created some 3,000 drawings, and more than 1,000 paintings and sculptures over the short period of eight years. Basquiat, a synonym of freedom and resistant spirit, is still loved and admired by many, as an icon standing for originality not only in visual art, but in culture as a whole.
;
OPENING HOURS
10:30-20:00 (Last enter 19:00)
·
. Closed January 1, 2021
· Final admission : 60 minutes before closing time
·
·
·
CONTACT US
·
· Call centers are closed on weekends and public holidays.
· Inquiries are available 10:30 to 19:00 on weekdays. (Lunch 11:30 to 12:30)
·
·
·
TICKET PRICE
JEAN-MICHEL BASQUIAT - Royalty, Heroism, and the Streets
2020. 10. 08 Thu - 2021.02. 07 Sun
· Discounts may not be combined with any other discounts or promotions.
· 1 children under the age of 4 can be admitted free with an adult guardian, any additional children will be charged with a children's admission fee.