Kim Junggi,
The Other Side
-
2021.04.16 Fri 2021.07.11 Sun
hosted by

LOTTE Foundation for Arts

in collaboration with

LOTTE CHEMICAL, LOTTE Giants, INTERPARK

sponsored by

NAVER

supported by

LG Electronics, Angel-in-us

organized by

LOTTE Museum of Art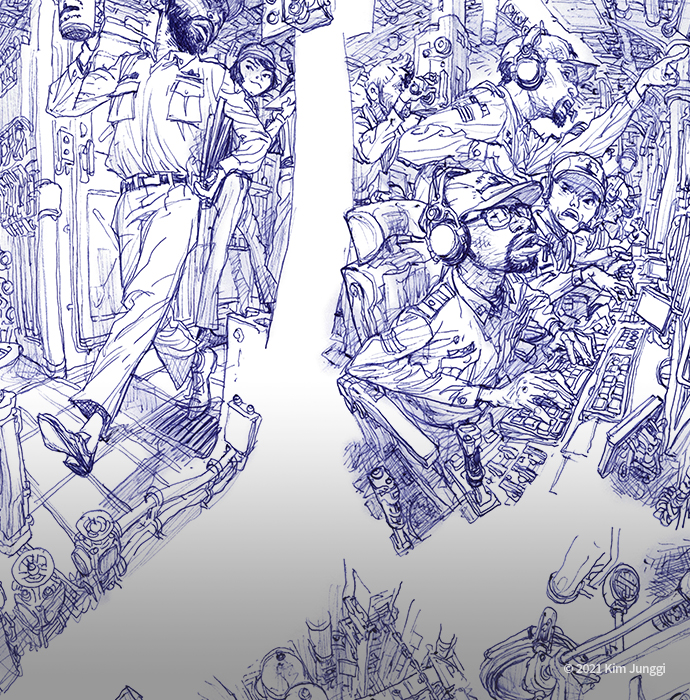 The LOTTE Museum of Art presents The Other Side, a solo exhibition of artist Kim Junggi, who has forged a distinct artistic realm by freely crossing the boundaries of art through his use of reality and fiction, his intuitive way of thinking, and immeasurable imagination. He brings to life a dimension that goes beyond reality by expanding the potential of "lines" and using precision techniques and narratives of his mind.
Kim is admired the world over for his astounding talents having created a new genre called Live Drawing that goes beyond the artistic concept of the original form, and crossing boundaries of contemporary artistic fields. The first of its kind in the world to present such a comprehensive collection of the artist, this exhibition of Kim will show, in a single venue, more than 2,000 pieces that include not only original cartoons and comics that were the source of inspiration for his imaginative endeavors along with 1,000 or more of his drawings, but also large-scale painting, video, and photography works that will allow audiences to take a look back at his artistic path.
The exhibition will serve as a road sign directing viewers to the flip side of Kim's imaginary world – The Other Side. On a canvas overlaid with various images of pop culture, numerous figures and forms from all different time and space follow a well-scripted anecdotal structure to complete a composite narrative. The few thousand sheets of drawings allude well to Kim's love for the act of drawing and his tenacious focus towards his subjects. Through a special live drawing performance given by the artist himself inside the exhibition hall, viewers will have a chance to witness his visual memory being transferred on to paper with precision through the tip of his pen.
The Other Side of Kim's imaginary world, one that combined instantaneous and spontaneous inspiration to open up new possibilities of visual art, will undoubtedly offer a spellbinding experience that will intensely captivate our gaze.
LOTTE Museum of Art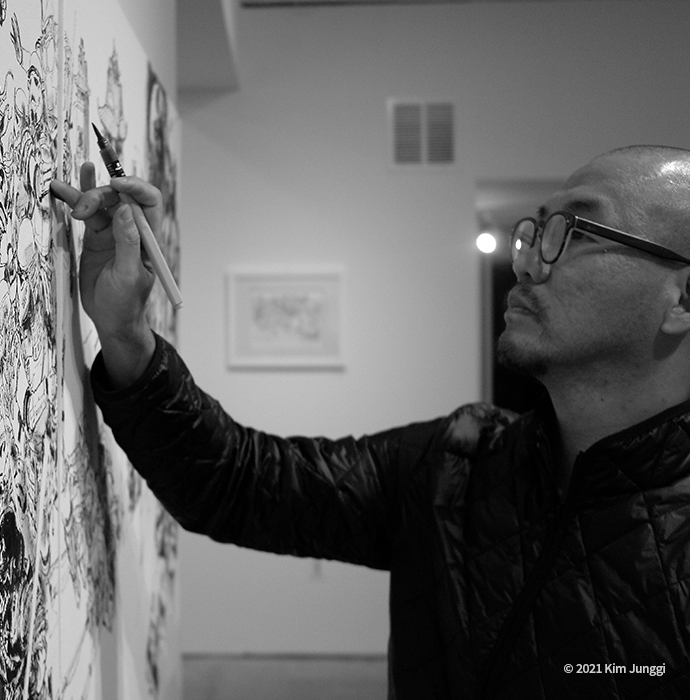 -
The world-renown artist Kim Junggi is the creator of the genre live drawing in which he spontaneously puts to paper images in his mind using perfect techniques and following a solid narrative structure. His new style of performance art is expanding the field of contemporary art, with the artist doing collaborative work in various industries including commercials, media, fashion, and more. His dream of becoming a cartoonist began when he was young, when he became captivated by the cover of a sketchbook his father gave him. He began copying cartoons and comics he liked, keenly observing things he wanted to have then repeatedly drawing them to completely understand characteristics about his subjects. With his exceptional visual memory and curiosity, he began to catalogue things around him in his head, making them his own. Later, Kim dropped out of college while studying western painting so that he may work seriously as a cartoonist. His first step into the artistic world was the KTF publication Na in 2001 then followed it with his series Funny Funny in the 2002 cartoon magazine Young Champ. He began making a name for himself with the popular Naver Webtoon TLT (Tiger the Long Tail), born of his phenomenal drawing and writer Park Sungjin's solid storytelling which was featured from 2008 until 2010 and supported by a mania-level fan base.
His career took a major turn at the 2011 Bucheon International Animation Festival, when the video of Kim, drawing completely from memory without any rough sketches and filling up his entire booth wall, went viral. The world was at awe at his genius talents, to see him instinctively and almost effortlessly transfer images from his mind's database through the tip of his pen. The utter precision and the multilateral understanding of space Kim demonstrated in his unparalleled live drawing was regarded by many to be beyond human. After that Kim went on to become internationally known, starting with the European animation festival Strasbulles held in France and being invited to the US and China. In 2015 he participated in Kaikai Kiki's solo exhibition as well as in Juxtapoz x Superflat held in Seattle showing Murakami Takashi's private collection, garnering attention from the contemporary art world as well. His first solo exhibition held at Bastille Design Center in Paris brought in record-breaking visitors, making his first shot in Europe a smashing success.
Kim's live drawing has now become a genre of art, an art-in-process, crossing boundaries between cartoon and visual arts. His boundless artistic realm that pours out without hesitation during his drawing performance is continuing to inspire many artists. Kim has been involved in various projects including doing artwork for writer Bernard Werber's novels Taylor-made Paradise and Third Humanity, working on Marvel's Civil War, doing cover art for DC Comics, and more. Collaborating on such projects like director Bong Joonho's movie Parasite, Netflix's Stranger Things, and Blizzard's World of Warcraft: Battle for Azeroth showed once again his standing as a world-class artist. His first large-scale retrospective exhibition Kim Junggi: The Other Side held at LOTTE Museum of Art in 2021 will be an excellent opportunity to experience his ever-expansive artistic world and various accomplishments in a single show.
;
OPENING HOURS
10:30-19:00 (Last enter 18:30)
· Final admission : 30 minutes before closing time
· The museum is closed on June 14.
CONTACT US
·
· Call centers are closed on weekends and public holidays.
· Inquiries are available 10:30 to 19:00 on weekdays. (Lunch 11:30 to 12:30)
·
TICKET PRICE
Kim Junggi, The Other Side
2021. 04. 16 Fri - 2021. 07.11 Sun
· Discounts may not be combined with any other discounts or promotions.
· 1 children under the age of 4 can be admitted free with an adult guardian, any additional children will be charged with a children's admission fee.