dreamer, 3:45am

Nevertheless, We Keep On Dreaming
2021.09.30 THU 2022.01.09 SUN
hosted by

LOTTE Foundation for Arts, LG Electronics

in collaboration with

Interpark

sponsored by

Media l NAVER

supported by

Angel-in-us, Asiana Airlines

organized by

LOTTE Museum of Art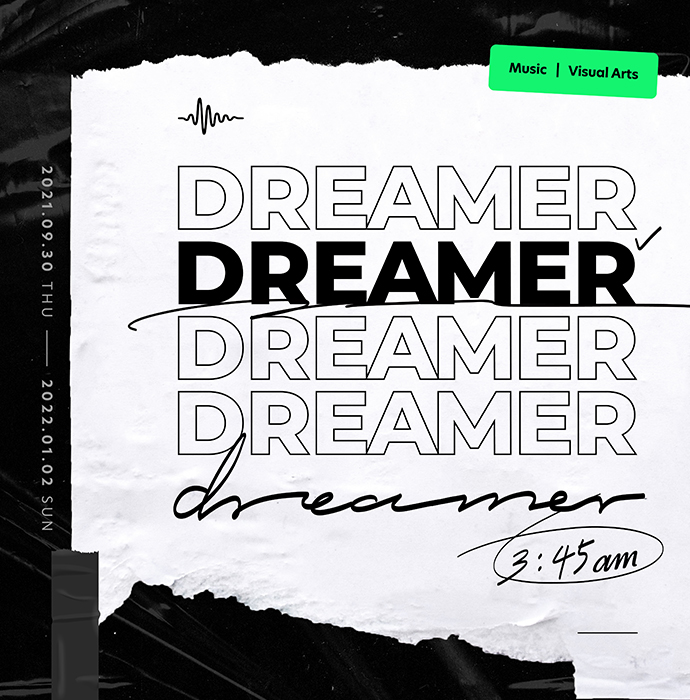 The LOTTE Museum of Art presents [dreamer, 3:45am], a space and sensory exhibition composed of diverse variations of contemporary visual arts. We are immersed in a society and a city today that requires us to prove our existence at all times. The burden of such things as the environment we're part of, judgments of others, and societal systems weigh down heavily on the locus of our dreams. In this day and age, when not even the time to dream is permitted, we invite audiences, experienced through the artistic works created by the artists' perspectives, to the spaces of dreams.
Spaces come alive as art in this exhibition, brought to audiences by ten world-class contemporary artists and renowned musicians of Korea who will use music as a medium to express diverse visual arts on a spatial canvas. Our senses often become attached to familiar music, spaces, and smells, remembering situations, places, and even emotions through them. The audience, becoming absorbed into the exhibit area through visual and auditory stimulations from the light, music, and performances, projects their own narratives and comes to face their innermost selves. The extending of the senses through such inducements makes real the journey of dreams. UK's representative media artist UVA; Korea's leading contemporary artists Fabrikr, SILO Lab., and Studio AR ECH; Korean musicians CODE KUNST, Peggy Gou, Yun Seok Cheol, Frankinsense, and Lim YongJu; and the modern dance group Ambiguous Dance Company are the visionaries of [dreamer, 3:45am], featuring five spaces presented under the theme of "dreams" to bring down barriers of contemporary art and award an entirely new artistic experience and inspiration.
The various forms of dreams translated into contemporary art and music will stir within us the inspiration to once again build on our dreams powered by boundless artistic creativity, and the solace and pauses offered to us by the artists will allow us to take a look back at the road we've traveled so far. Moving beyond 3:45 am, a time of slumbered dreams as well as hopeful construction of new aspirations, the show is a gift of courage and encouragement for every one of us fiercely toiling in an endless journey to, nevertheless, continue dreaming.
Sweet dreams, everyone.
Dreamers
United Visual Artists (UVA) / Peggy Gou / Fabrikr / CODE KUNST / SILO Lab. / frankinsense / Studio AR ECH / Yun Seok Cheol / Ambiguous Dance Company / Lim YongJu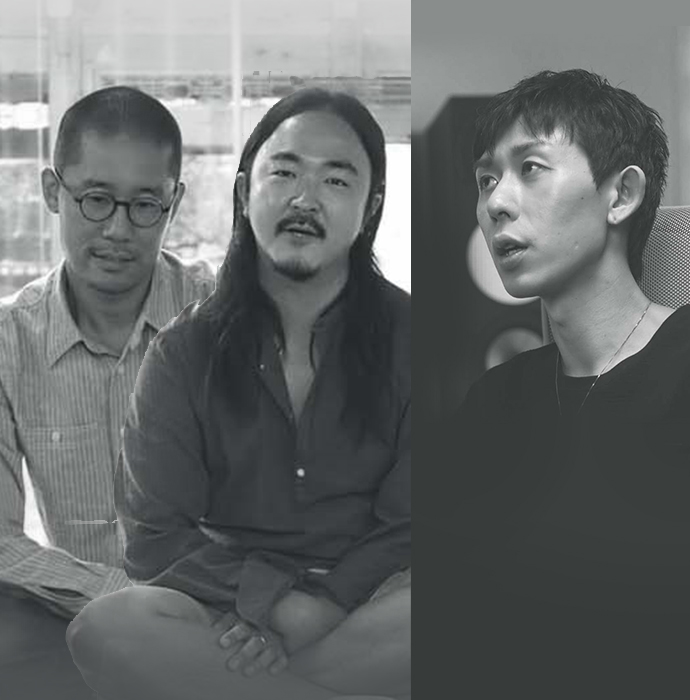 Part 1. The Shape of Dreams
Fabrikr / CODE KUNST
Fabrikr
Made up of Kim Dongkyu and Kim Sungjo, Fabrikr is an artist group that refuses to limit their artistic realm, showing a broad creative spectrum encompassing everything from objét art to installation works that cover entire areas of space. They express objéts as a world that encapsulates boundless space while aggrandizing single objects into immense spaces. Transcending genres through collaborations across diverse fields, the group reaches out to a broader audience to inspire them with reinterpretations of subjects via a new perspective. Their work direction and overall mission are about inspiring more and more people with their art. In addition to being part of the collection at the Victoria and Albert Museum, their works have been part of numerous exhibitions in Korea and abroad, including 100% Design London, HAND Expansion and Coexistence, Cheongju Craft Biennale, Anything, Something, Gwangju Design Biennale, PEACEMINUSONE, Seoul Museum of Art, Making Life, Clayarch Gimhae Museum, and more. They have also collaborated on projects with internationally renowned companies, including Nike, BMW, Samsung, Gentle Monster, and more.
CODE KUNST
Covering diverse genres of music, CODE KUNST is an artist who is recognized for his talents by a wide range of listeners, including avid hip hop fans. The artist, who has a solid voice color, shares with us unassuming and approachable music - almost like a daily journal entry - that is critically acclaimed musically and appealing to the masses. Since joining Korea's representative hip hop label AOMG in 2018, he has released nine single albums and his fourth album, People. Since 2020, he has been featured in TV programs such as Hangout with Yoo and Show Me the Money 9 and in various mediums, such as Elle Korea, fortifying his position as one of the leading producers in Korea. He confirmed his unparalleled status as a music producer once again when he won the Producer of the Year award at the 2021 Korean Hip Hop Awards.
;
dreamer, 3:45am
It can only be heard on the day of viewing the exhibition at LOTTE Museum of Art.
untitled (to the real Dan Hill) 1b, 1978
OPENING HOURS
10:30-19:00 (Last enter 18:30)
Closed on Saturday, January 1st, 2022.
TICKET PRICE
dreamer, 3:45am
2021.09.30 THU - 2022.01.09 SUN