Shepard Fairey
EYES OPEN - MINDS OPEN
2022.07.29 FRI - 2022.11.06 SUN
hosted by

LOTTE Foundation for Arts

in collaboration with

OBEY Giant Art Inc, VIBE, INTERPARK Inc.

sponsored by

U.S. Embassy of Seoul, NAVER

supported by

Shinyoung Securities, LG Electronics, LOTTE CHEMICAL, PROJECT LOOP, LOTTE HOTELS & RESORTS, Asiana Airlines, BMW KORON MOTORS, Peaches. One Universe

organized by

LOTTE Museum of Art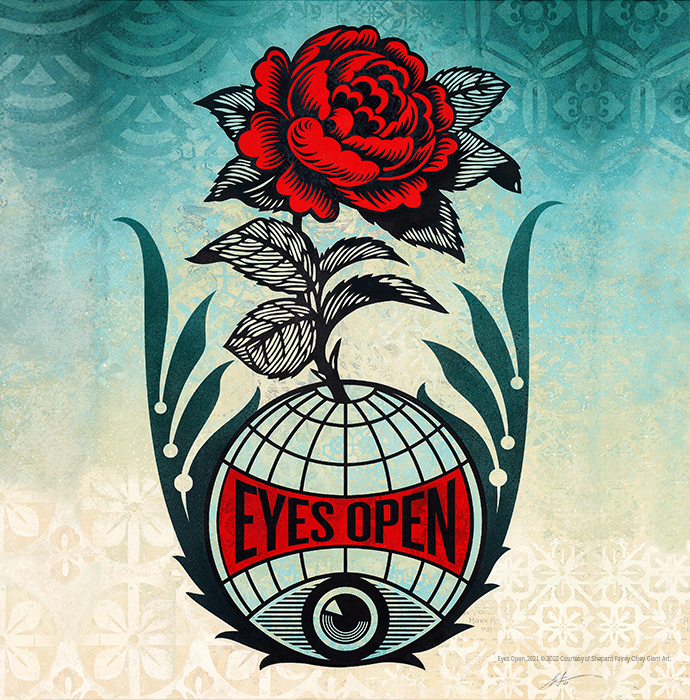 "I have always known that art can be powerful because I have seen how it affects me personally and many other people."
The LOTTE Museum of Art presents Shepard Fairey, an artist with a unique artistic realm that combines advertising, graphic advertising, and social messages, all based on urban art. The exhibition will be an intense display marking thirty years of his artistic achievements, showcasing over 470 pieces, including everything from his early works to video, collaborations, photographic materials, new releases, and murals. Using conceptual messages in defiance of authority and convention and the repetitive use of images, Fairey is the epitome of American visual culture, bringing us persuasive propaganda-like colors and compositions while touching on social and economic subjects that include everything from the environment to human rights. Simplicity was key for his work to be visually compelling and get the public's attention. He is igniting the minds of twenty-first-century visual art, going against art history and the existing visual culture to bring about transformation and hybridizing various genres and styles of art. This show will revisit Fairey's philosophy-infused artistic realm as a whole, providing an invaluable opportunity to experience the beginning of a new art form that fuses art with life.
Fairey began building a career as an artist in 1989 while attending the Rhode Island School of Design with the Andre the Giant has a Posse sticker, created using the portrait of the colossal pro-wrestler André René Roussimoff (1946-1993) as a motif. The project eventually evolved into the OBEY Giant campaign and served as the foundation of his artistic productions. Later, he garnered mass popularity and international fame with the release of the portrait poster HOPE in 2008 of then-presidential candidate Barack Obama (b. 1961).
This exhibition will include not only OBEY Giant's early series but also showcase five new murals personally painted by the artist on buildings around the city of Seoul under the theme of hope and the environment, demonstrating Fairey's artistic world through street art. The street is the root of his work while also being the most effective and attractive location to help convey his messages, reach out to the public, and promote participation. America in the 1980s was going through a time of change, riddled with domestic and international affairs and related social issues. Younger generations began expressing their wariness of an uncertain future in the form of subcultures imbued with the spirit of resistance and defiance. Such things as the freedom-incarnate punk rock, hip hop, skateboard culture, graffiti, and street art came into style. The do-it-yourself (DIY) spirit of punk – which calls for doing things yourself to stand up to the mainstream authority class turning their backs on people – especially left a deep impression on Fairey, manifested from his early works to his recent releases in diverse themes and methods. Icons appearing in his work laden with symbolic concepts and meanings, such as pigeons, roses, lotus flowers, the Earth, and angels, serve as significant vehicles to convey the artist's messages while completing his idiosyncratic artistic realm.
Fairey relentlessly poses a question to us, pushing us to act of our own free will. The conceptual agenda he imparts via his artwork and the gravely responsible and meaningful position we hold as members of society propels us to focus more on our reality and motivate us to unravel the entanglements of society we face. It will be exciting to see what artistic vocabulary the ever-thought-provoking Shepard Fairey will use in this exhibition to connect with the public and exact transformation. It falls on us viewers to open our hearts and answer his call, his art, to change the world.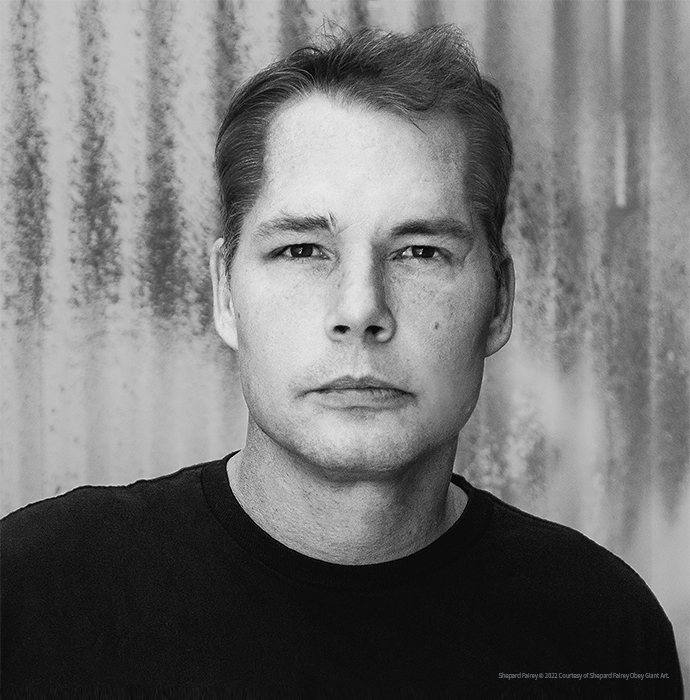 셰퍼드 페어리
Shepard Fairey (b. 1970 -)
"I've never really considered myself just a street artist. I consider myself a populist."
Shepard Fairey, born in 1970 in Charleston, South Carolina, is an artist and social activist working out of Los Angeles, mesmerizing the world with his diverse projects and artworks. He trained in illustration at the Rhode Island School of Design. While there, he placed stickers of his creation on t-shirts and skateboards while working at a skateboard shop, stirring quite a reaction from the skateboard community, a move that would later become the foundation of his artistic work.
Fairey began making a name for himself as an artist in 1989 with Andre the Giant has a Posse, a sticker project based on the portrait of the legendary pro-wrestler André the Giant. The sensation that began with the skateboard community and spread nationwide with stickers popping up in numerous cities all over the U.S. proved to Fairey the magnitude of influence art could wield. When a copyright infringement issue prevented him from further using André's portrait, he opted for a simplified facial illustration with "OBEY" – the word that repeatedly appears in John Carpenter's film, They Live (1988) – placed across, creating a far more symbolic image to apply to his work. This image that went on to incite a social reaction in 1990 eventually became the OBEY Giant campaign, an artistic experiment of sorts that provoked viewers to contemplate hidden meanings.
In the process, Fairey experienced the power of what art can accomplish and thereby a kind of responsibility as an artist, and began reaching out to the public through his later works. Skateboarding, his childhood source of inspiration and overall foundation for his work, as well as the punk rock and hip hop cultures, instilled in him, despite shortcomings, a do-it-yourself (DIY) philosophy. Furthermore, they also massively influenced his artistic work, encouraging people to question social issues, voice opinions, and take action in pursuit of the ideal. Utilizing various symbolic imagery from 1920s Russian Constructivism posters to 1960s Socialism propaganda and punk rock posters, Fairey left powerful impressions in the public's mind via succinct yet compelling words and visually persuasive compositions.
The 2008 portrait poster HOPE of the then-presidential candidate Barack Obama (b. 1961) brought the artist mass popularity. With the official approval of the Obama campaign office, 300,000 posters and 500,000 stickers were distributed for free via a website, thus becoming one of the most influential election campaign posters and an unprecedentedly powerful icon. The HOPE poster was chosen as the Design of the Year at the London Design Museum's 2009 Brit Insurance Design Awards and became a part of the National Portrait Gallery's .permanent collection. The iconic poster became Time Magazine's 2008 Person of the Year cover, which Fairey followed up with cover arts for Occupy Wall Street in 2011 and for commemorating and encouraging people to vote for the 2020 election. His 2020 poster Just Angels Rising reached new heights when, for the first time ever, Time changed its cover title to "VOTE." Releasing such works as Bias by Numbers in honor of Black Lives Matter and We the People about minority women, Fairey has since continued to be in the limelight speaking out on various issues.
His call to the people about the world's affairs may have gotten louder and more varied, but the path has never been without hardships. The artist traveled the world to leave messages on skyscrapers and billboards in New York, London, San Francisco, Johannesburg, Tokyo, Hong Kong, etc., and has gotten arrested more than twenty times in the process. He was arrested and fined for destruction of property in Boston on his way to the opening of his first solo exhibition at the Institute of Contemporary Art. He was involved in legal issues big and small for the images he used for his work. Fairey embraces all his obstacles with a firm philosophy and refers to himself not as a "street artist" but as "a populist." He time and again embeds social messages speaking out against racism, sexism, various hate crimes, and destruction of the environment, striving for equality, and supporting justice as a way of connecting with the public through art. From a small sticker on a skateboard to painting locations worldwide with massive murals and adorning Time with historical covers, Shepard Fairey is one of the most influential artists of our time, still fighting through art to be heard and encourage action all over the world.
;
OPENING HOURS
10:30-19:00 (Last enter 18:30)
TICKET PRICE
Shepard Fairey, EYES OPEN-MINDS OPEN
2022.07.29 FRI - 2022.11.06 SUN