ALEX KATZ
Models & Dancers
2018.04.25.WED 08.26.SUN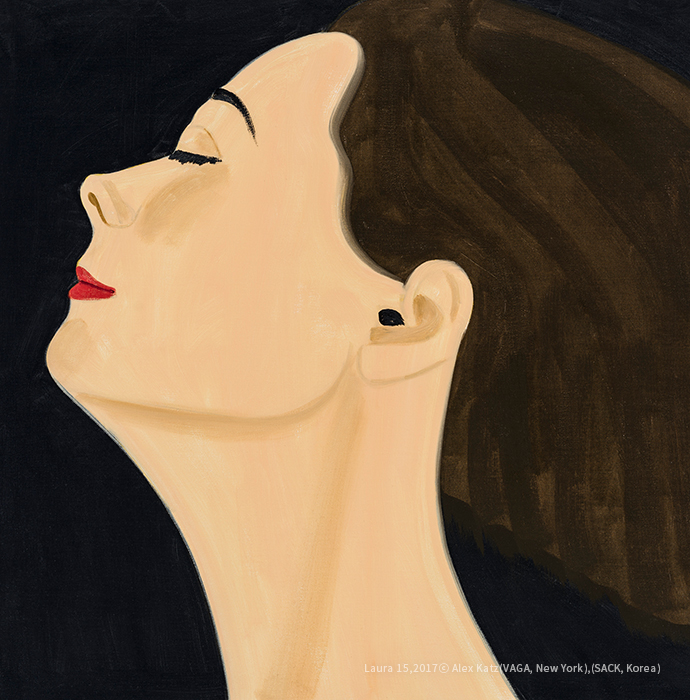 LOTTE Museum of Art is pleased to announce an exhibition of Alex Katz, who has portrayed urban life and ordinary people of the city which is represented by New York an elegant and beautifully in a unique way. Alex Katz depicts the people around him and scenery on the big screen in the rapidly changing the heart of New York City of the 1960s. At the time, New York was the city of new media such as TV, movies, and photographs, also the city of art where new visual art coexisted together such as Color-Field Painting represented by Barnett Newman, Franz Kline, Mark Rothko, and Jackson Pollock's All Over Painting, Jasper Johns and Andy Warhol's Pop Art etc. 
Alex Katz shows the essence of transcending beauty beyond the visible object by filling the screen with a solid color and editing his surroundings in the way of media. This exhibition is the first exhibition held in Korea, and the CK series and Coca-Cola series that collaborated with Calvin Klein to be unveiled for the first time in the world. In addition, the exhibition features various portraits such as his wife 'Ada' and his own people, and also artworks that help understanding his wide oeuvres including landscape painting, flower painting and drawing.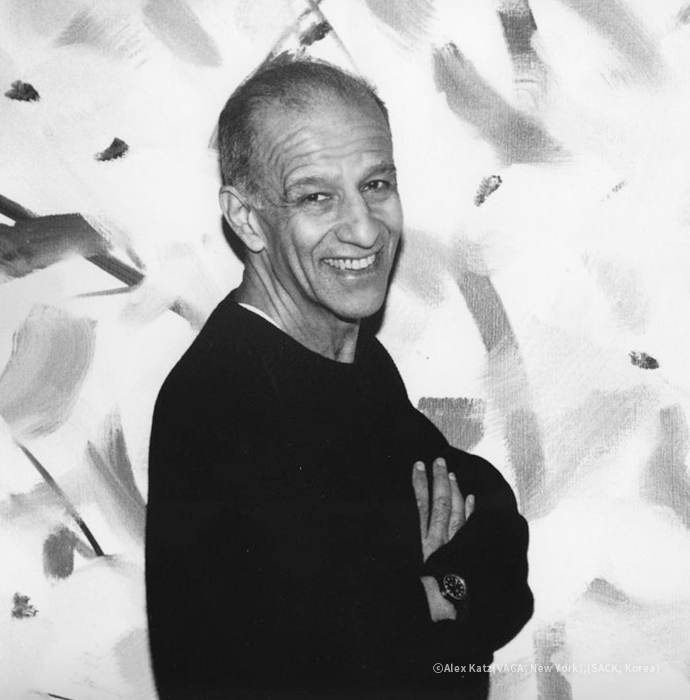 "Part of what I'm about is seeing how I can paint the same thing differently instead of the different things the same way."

Alex Katz was born in Brooklyn, New York in 1927. Katz was raised by his Russian émigré parents, both of whom were interested in poetry and the arts. In 1946, Katz entered The Cooper Union Art School in Manhattan. At Cooper Union, Katz studied painting and was trained in Modern art theories and techniques. Upon graduating in 1949, Katz was awarded a scholarship for summer study at the Skowhegan School for Painting and Sculpture in Maine. Katz explains that Skowhegan's plein air painting gave him "a reason to devote my life to painting."
Katz's first one-person show was held at the Roko Gallery in 1954. Katz had begun to develop a circle of acquaintances within the second generation New York School painters, figurative painters and poets, including Frank O'Hara. In the late 1950s, he made a decision to attempt greater realism in his paintings. He became increasingly interested in portraiture and painted his friends and in particular his wife and muse, Ada. In the 1960s, he shifted to painting directly on shaped aluminum sheets, a practice which has continued throughout his career, forming a series of freestanding or wall-mounted portraits that exist in actual space.
In the early 1960s, influenced by films, television, and billboard advertising, Katz began painting large-scale paintings, often with dramatically cropped faces. He would continue painting these complex groups into the 1970s, portraying the social world of painters, poets, critics, and other colleagues that surrounded him. In the 1980s, Katz took on a new subject in his work: fashion models in designer clothing.
In the late 1980s and 1990s, Katz focused much of his attention on large landscape paintings, which he characterizes as "environmental." At the beginning of the new millennium, Katz also began painting flowers in profusion, covering canvases in blossoms similar to those he had first explored in the late 1960s. Beginning in 2010, Katz literally re-framed his subject matter by employing more drastic cropping of the individual portraits.
Alex Katz's work has been the subject of more than 200 solo exhibitions and nearly 500 group exhibitions internationally since 1951. Works by Alex Katz can be found in over 100 public collections worldwide. The Art Institute of Chicago; The Brooklyn Museum; Metropolitan Museum of Art, New York; The Museum of Modern Art, New York; The National

;
OPENING HOURS
· Admission is allowed up to 30 minutes before closing time.
· Closing days are on the first Monday of each month, but are subject to change.
CONTACT US
· Call centers are closed on weekends and public holidays.
· Inquiries may be made from 10:30 – 19:00 on weekdays.
· Lunch time for the call center is from 11:30 ~ 12:30.
TICKET PRICE
ALEX KATZ : Models & Dancers
2018.04.25.WED - 08.26.SUN
· Discounts may not be combined with any other discounts or promotions.
· Children under the age of 4 can be admitted free with an adult guardian, any additional children will be charged with a children's admission fee.